Hi. I go by the name of Don Foster. I started writing gospel songs when I was about 20 years old. Here are some of the songs. They are not fancy recordings, but I have put them out there in case there are some famous singers who are looking for new material.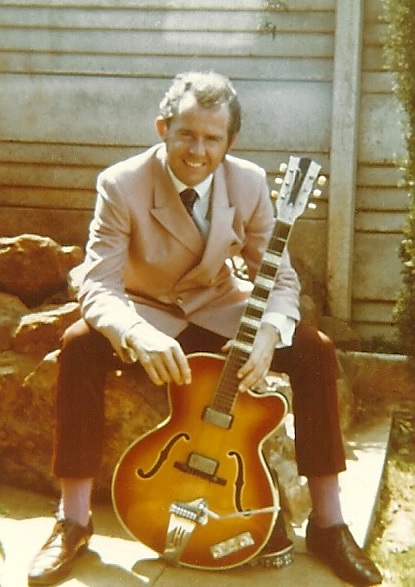 One morning I was listening to R.W.Schambach on the radio, and got inspired to write this gospel song.
2. Jerusalem I love (with lyrics)
Being in Jerusalem was an experience of a lifetime.
3. Blue Galilee
When we were by Galilee, I felt like pitching a tent and staying there for the rest of my life.
I was thinking of John G. Lake, and how the Holy Ghost came upon him.
This is based on the story of the footprints in the sand.
6. Ready?
If we point a finger at others, there are three pointing back at us, and the thumb pointing to God as a witness.
7. There is healing in the Name of Jesus
I wrote this gospel song after my cracked spine got healed in 1972.
My love song to Jesus.
One day every knee will bow to Jesus.
10. I forgive you
Forgive, and you will be forgiven.
"By the works of my hands, command ye Me."
12. Fluffy
This gospel song is about the Passover lamb in Egypt. Jesus was the "Lamb of God which taketh away the sins of the world."
13. Little Birds
Little birds praise God with their songs. So should we.
Jesus is still looking for the lost sheep, because He loves us.
15. Like the bird
Birds go home at night to sleep. We have a home in heaven.
How many souls have we won for Jesus?
17. So forgive
"Forgive them, for they know not what they do."
18. Jailbreaker
The angel let Peter out of prison.
If we go on our knees, He will lift us up.
20. Concrete Jungle
No smog in the New Jerusalem!
If the Holy Ghost electrifies the fence, we must be one side or the other!
22. A New Day
God gives us each a new day, and a new opportunity.
23. Little Boat
How many people are you taking to heaven?
24. I need You
Jesus said that without Him, we can do nothing.
25. It's gotta be love   (LP recording)
"By this shall all men know you are my disciples, if you have love one toward another."
Thrills can kill, but Jesus came to give us life.
27. Do you love Him more than anything?
Do we love God more than anything?
Jesus said we must store up our treasure in heaven.
29. Woodchopper
Sometimes God has to break down before He can build up.
30. Someone cared
Jesus cares about you.
31. Don't be weary
In due time you will reap if you faint not.
32. A new creature
If any man be in Christ, he is a new creature.
How can they get saved without a preacher?
The Holy Spirit cannot be chained.
35. You can't buy the Holy Spirit
The Holy Spirit is not for sale.
36. Henry
God can change anyone.
Don't concern yourself with what other people do. Each one of us has to give an account for ourselves on the day of Judgment.
38. Get off my back
Tell the devil to get lost.
39. Follow
Follow Jesus.
40. Palm Tree
When the storms come we need to be rooted in Jesus.
41.  Cross any river (with lyrics)
God can take us through any obstacle.
Jesus specialized in changing people.
43. A new heart
Let Jesus into your heart by faith.
44. He understands
Jesus came to heal the broken hearted.
45. Don't you worry
Seek first God's kingdom.
46. No condemnation
The devil wants to condemn you.
We must be ready for when Jesus comes.
48. Live above
We are seated in heavenly places with Christ Jesus.
If we come back to the Father, He will welcome us with open arms.
50. I once knew a preacher man
Keep the faith.
51.  All my troubles
Casting all your cares upon the Lord, for He careth for you.
We shall met again in heaven.
53. Mama's Prayer
Prayer can change people.
Jesus has all power in heaven and in earth.
55. Prophets
Many holy men of God prophesied about Jesus.
56. Sunshine is coming on my pathway
57. In die more
Here is one of the few Afrikaans songs I wrote many years ago. "In the morning."
58. You're my God
I wrote this song back in the 70,s and am shocked when it goes on YouTube that there are other songs with the same title! Quite a few songs that I wrote in the 70's have the same titles as other songs out there.
59. All things work together for good
Here is another old song that I wrote in the early 70's. Some people hate my songs and say they are not worth listening to, but some of these old songs are still a blessing to me. The other week I sat at the organ and sang this song about three times, and it was such a great blessing to me. My apologies to the rich professionals for this amateur recording done many years ago. The other day someone asked me to listen to some songs on the YouTube, and the one song had a billion views! When I listened, it did nothing for me. It was about a plump girl saying how glad she was to be plump. I listened to a couple of other modern singers who had many millions of views, and the songs did nothing for me. However, this song blessed me so much, even if it isn't fancy.
At church on Sunday, Yvonne asked me to load up more songs, so yesterday I loaded 40 old songs from my old cassette tapes, and will load them up to the YouTube as the weeks go by. Here is one of them. I hope it is a blessing to you. I have been blessed doing it. Thanks Yvonne. Thanks to Frank Horvath too, who says I can still use his nice pictures of the sea and fire, etc.
61. When I was young
63. A million years
68. Man of Gadara
69. He had love
This was the title song of my first little record I made in 1970. The other songs were: Don't sit on the fence, The Man who took my place, and Pretty Pretty.
72. Careful
73. A friend of mine
74. I remember You
75. Jesus wants to be number one
Ken Murphy is playing fiddle with me. This is a tribute to Ken Murphy.
77. It's such a beautiful day today
The late Ken Murphy is playing fiddle with me again.
78. Better get right
Ken Murphy is playing super fiddle with me again.
80. Is there time?
Ken and I.
81. Vergewe nou
This is a translation of my song "So forgive." I am grateful to Mr. Paul Saunders of Damelin College in Johannesburg for help with the translation.
82. Sunshine is coming on my pathway
I have this song earlier, but I did an additional video with photos of the city where we live, for a local competition.
83. Talent contest "live" video – Sunshine is coming on my pathway
I wasn't chosen for the contest, but I had a daydream that someone had an accident, and they called me in. That night at 10 pm, the manager phoned and asked me to join the show! To me, it was an appointment made by God. I was hoping they wouldn't put me on first, and to my relief, they put me on last. It has been such a thrill for me. I was so nervous, and didn't know what to expect, but I was chosen to be in the semi-finals along with another nine acts. Praise the Lord!
84. Don't you worry  
This is the original video of this song.
85. Winning side 
This song features me on the keyboard, with the Muvizu animation.
86. A new heart 
This is the original video of this song.
88. Don't you worry (with lyrics)