Gentleman Jack Holcomb sings some good old gospel songs that take me right back to my childhood. I hope you get blessed by these songs.
12. Leave it there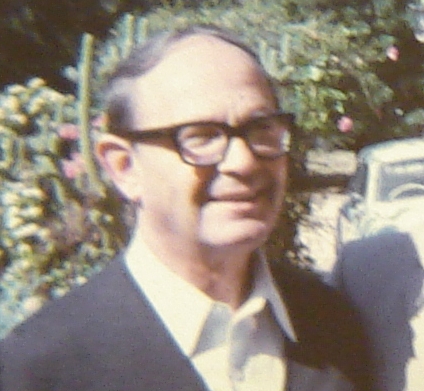 This is a photo I took of Mr. Willie Roeland.
When I was visiting South Africa in 1971, I stayed a few months with "Uncle" Willie Roeland at his house called "Eldorado." He told me once how he was in a car full of businessmen hurrying to get to a meeting, when a tire blew out. He said they went all over the road, miraculously missing all the other cars, then the car rolled a few times, then spun around on it's roof before landing back on it's wheels. He said he only had time to say: "Jesus." He said as they sat there in the car in total shock, with the dust settling, there was a tape in the tape deck, and someone was singing this song: "In times like these – you need a Savior." Wow – that's true!
16. Just as I am
17. It took a miracle – Jack Holcomb
The other day I was thinking how hard it is to get people to receive Jesus as their Savior, and I realize that it does take a miracle.
18. He washed my eyes with tears
19. Without Him
21. In the garden
22. He touched me
23. It is well
24. The touch of his hand on mine
25. I stand amazed
27. Must Jesus bear the cross alone
29. Ninety and nine
30. There is a balm
32. All the way the Savior leads me
33. Open your heart
35. 'Tis so sweet to trust in Jesus
I remember being at someone's house where they had a Jack Holcomb record. I trust that Jack Holcomb has much treasure in heaven for his dedication to the Lord.